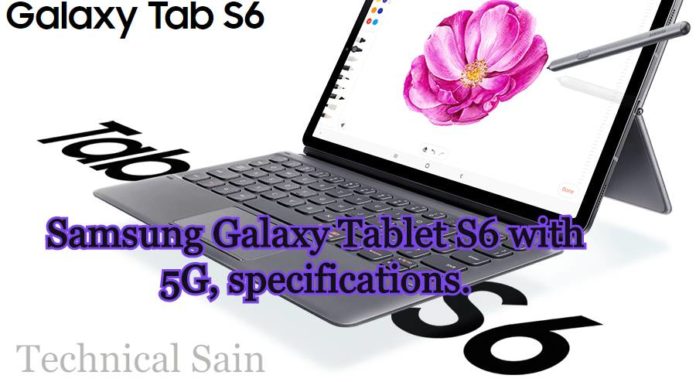 Tomorrow is going to be the launch of new Samsung galaxy tablet S6 with 5G connectivity. The first tablet to have 5G connectivity. Although the specifications are all the same but the new thing is that it will have 5G support.
Lets take a look at the specifications of the Samsung galaxy tablet S6.
Design of Samsung Galaxy Tablet S6.
So the screen is 10.5 inches long with dual sensor camera. It has AMOLED panel with 2560×1600 resolution. Sleek design with three colors. it has a Mountain Grey, Cloud Blue and Rose Blush.
Camera.
The Samsung Galaxy Tab S6 have Three cameras.
Front Camera.
The 8Mp front camera with live focus. its outstanding 1.12 micron sensor is all you can root for. because it gives amazing results with the aperture of F2.0
Dual Back Camera.
The back camera is ultra wide and wide camera
Ultra Wide Camera.
This camera has the pixel size of 1.12 micro sensor. It has aperture of F2.2
Wide Camera.
The pixel size is 1 micro sensor. this camera has aperture of F2.0 . This feature makes the camera best picture giving result.
Battery.
In all mobiles and tablets whatever i am purchasing battery matters a lot for me. i pay a lot of attention on the battery type and its usage time. Samsung Galaxy Tablet S6 have 7040 mAh battery which i think is a pretty good deal.
Connectivity.
The Drive comes with the connectivity of LTE, USB type C, Wifi and blutooth 5.0. Also it has the support of 5G data networks.
LTE in the device has access to DL upto 2.0 Gbps.
Security And Password
The device is very secure with the features which will prevent any malfunction or ransom. A multi layered secure platform Knox is securing the device and its inner folders.
As for the authentication is concerned, You can use the lock type of password PIN and pattern. Also fingerprint sensor and facial recognition is provided.
Storage And Sim Card.
The Samsung Galaxy Tablet S6 has Single Sim Slot. Sim must be a one nano sim. However, the microSD storage is upto 1 TB.
As far as the memory of the S6 Tablet is concerned, it has 6GB Ram with 128 GB internal storage. An 8GB Ram with 256 of internal storage.
AP Performance.
The Galaxy Tab has Qualcomm Snapdragon and 8150 Mobile Platform.
I hope you will lie this article.